MY FATHER LOVED GOING TO restaurants, and for that I will be forever grateful.
We ate at some, if not most, of the best restaurants in Chicago—perhaps out of self-preservation (my mother, as I've mentioned, just could not cook). My father was a gracious man, always a gentleman, and he complimented my mother generously on her culinary efforts while claiming that eating out was "a break for Mom."
In reality, of course, it was a break for us. With dad at the wheel, we eagerly traversed the three sides of the city in search of food that didn't taste like it had come from a recipe in the latest issue of Women's Day or Redbook magazines, two grocery-store publications that promised gustatory miracles with a pound of animal protein, some variety of Campbell's soup and elbow macaroni or rice. At our house, nobody ever asked what was for dinner because it really didn't matter. It all tasted pretty much the same and it was all, at best, borderline terrible.
In all fairness, I should note that many of Mom's soups were pretty good. She grew up in Depression-era Nebraska preparing soups for the "traveling" men who wandered through town looking for work. There were no recipes for those soups and I believe, in retrospect, that her lack of confidence was what kept her from being even a passable cook. Leftovers dumped into a pot of simmering water became a palatable meal for men who did not know when their next meal might even be. As time wore on, she began making soups that involved more than just leftovers, improvising in a way, building a little culinary confidence. Soup, I believe, became not only the one area of cooking where she felt comfortable, but the only one she could do without strictly following a written recipe.
Growing up, soup was also what we most often had for breakfast.
DAD WAS PARTICULARLY FOND OF OPERA AND BIG BAND JAZZ. I think he was attracted to the ornate spectacle of opera, as well as the music, and he seemed to appreciate the structured freedom of jazz. I can't be sure because we never had any meaningful talks about music, but I could sense that his comfort zone was more with melody than improvisation. Dad was not particularly articulate or emotionally effusive, but there was a sparkle in his eyes when he recalled having heard after-hour jam sessions at some of Chicago's nightclubs, or when he broke into spontaneous renditions of "O Sole Mio," which we encouraged with great laughter and eye-rolling. Mom, I don't think, cared much for either opera or jazz, though she pretended to. Spectacle was just not part of a Methodist upbringing in rural Nebraska that verily defined and celebrated modesty and repression. And jazz, at least in its earnestness, might well have represented everything she was afraid of—freedom, unscripted expression, unbridled enthusiasm for creativity and life itself.
We all loved the symphony and frequently attended concerts at Orchestra Hall, typically preceding an evening performance with appetizers at Don the Beachcomber's, or following a matinee with dinner at the Cape Cod Room.
Oddly enough, my mother played piano, pretty much in the same manner she cooked: without a sheet of music in front of her she was lost.
My parents attended opening nights of the Chicago Lyric Opera every season for many years, and my sister and I would get a full report the next morning. Dad spoke of the majesty of it all, the voices, the orchestra, the story. To me, it seemed like a great adventure. Mom seemed to enjoy the red-carpet experience—not that they ever walked on it.
The patterns of contradictions and contrasts emerged and became understandable as I grew older, but not in ways that would invite much insight or understanding. Parents in all their guises are a difficult lot for their children. I'm sure my children would agree.
For his birthday one year, I presented Dad with the Victor Book of the Opera. I don't know that he ever even opened it. Maybe he did. I have it now. I wonder if I bought it for him knowing that someday it would be mine? Perhaps.
And in what has seemed particularly contradictory to me for so long was that Mom and Dad instilled in me a longing for a life that clearly wasn't ours; a harmless fantasy I suppose.
As a family, we were certainly not poor, but we were far from rich. We had no entry to the Gold Coast. We lived in middle-class neighborhoods and our neighbors were factory workers and shop owners, machinists, truck drivers, teachers and office clerks, nurses, cops and firemen, I suppose; a dentist and his family lived across the street from us on 18th Avenue, a lawyer around the corner, a bodyguard for Sam Giancana (how did we know that?) two blocks over, just off the alley. Most, if not all, of the men in the neighborhood were WWII veterans.
To my knowledge, my parents knew no writers or artists, nor captains of industry, and they weren't connected politically. Most of our neighbors—not that it mattered, and it didn't—were Irish or Italian Catholics; Jews were well-represented; there were Germans, too, and Poles and African-Americans, who were then known matter-of-factly as colored. Our neighbors and we were the people that Wally Phillips, the morning host on WGN radio, routinely made fun of at all of our expense and everybody laughed. At least on the surface. I don't believe any of it was mean, and nobody took offense; again, at least on the surface. It was a very funny joke to Chicagoans of the 1950s and 60s, but it was also true that Bohemian matching luggage was, in fact, two shopping bags from Goldblatt's, a department store that represented the flip side of Neiman Marcus. I know. My grandmother, my babi, carried her belongings in two shopping bags from Goldblatt's when she came to visit.
From time to time, my parents hosted somewhat lavish, somewhat formal cocktail parties where even the non-smokers smoked. A variety of cigarettes were placed in small wooden boxes or porcelain jars, hand-painted with Asian designs—there for the taking. Lighters, freshly filled, stood beside the boxes. Gin martinis, Rob Roys and Manhattans were served from a bar my father manned, along with an international menu of French canapés, Tahitian rumaki, Swedish meatballs and oysters Rockefeller.
Ellington, Basie and Goodman records played on the hi-fi.
My job was to take the guests' coats to my parents' bedroom upstairs, piling the coats onto their bed.
I'd sit at the top of the stairs and watch the party unfold below me.
The parties were lively and inviting—the men in dark suits and the women, tossing their heads back theatrically at all the right moments, were dressed in gowns—with sounds of ice tinkling against glass, lots of exaggerated laughter and blue-gray clouds of lingering tobacco smoke. It was all very noir.
I grew up aspiring to smoke cigarettes and drink cocktails and to change into a tuxedo every day after five; the profound sadness of "Lush Life" was lost on a much younger me but I longed for Billy Strayhorn to offer more social guidance "to get the feel of life from jazz and cocktails." There were twelve o'clock tales I longed to hear. Sadly, I suppose, I never outgrew it completely.
"Smoking, drinking, never thinking of tomorrow" is how I imagined growing old with a soundtrack of a mournful "Sophisticated Lady" or a carefree "Satin Doll," their swing rhythms setting the pace of what would clearly be my carefree jaunt through life, always snapping my fingers on the two and four; the muscular tenor saxophone of Ben Webster or Coleman Hawkins accompanying my every step.
The Big Band Era was well over by the time I came along in 1951, but Dad kept it alive in our house by playing his Benny Goodman records on the hi-fi in our living room, as well as those by Count Basie and Duke Ellington, the Dorsey Brothers, Harry James and Glen Miller. We'd listen to Sinatra, Bing Crosby and Jo Stafford, Ella Fitzgerald, Peggy Lee and Rosemary Clooney, and his favorite, Nat King Cole. He loved Mahalia Jackson. He'd tell me stories about the nights before the war that he'd spent listening to those bands and singers at the Aragon and the Trianon Ballrooms, long-abandoned uptown places I could see from the window of the El on my way to Wrigley Field, or at the Brass Rail downtown. The College Inn at the Sherman House was one of his youthful haunts and it was where I celebrated my sixteenth birthday: Ella Fitzgerald with the pianist Tommy Flanagan, bassist Jim Hughart and drummer Ed Thigpen. We dined on the nightclub's signature dinners of chicken a la king and lobster Newburg.
I could never have imagined that one day my work would allow me to come to know each member of that quartet.
Dad had a great time on that birthday of mine. He tapped his feet, rocked his head and drummed his fingers on the tabletop. He'd say that as a kid he dutifully studied violin and clarinet and joked that the only thing he could play was the radio.
I REALLY DON'T KNOW WHAT Dad thought about my becoming a jazz writer and coming to know many of the players he so admired. The subject never really came up.
Dad, who had no education to speak of, always told me that education was the most important thing that could be attained in life. Unfortunate circumstances may have led to his lack of schooling, but I cannot recall ever seeing him read a book; nor could my sister. It was actually something we talked about shortly before her death. His lack of motivation to educate himself or take pleasure in the written word bothered us. He resented my mother's education (she held a bachelor's degree in business administration and devoted most of her adult life to advancing educational opportunities for women through AAUW, the American Association of University Women), and he offered the odd advice to me to not marry somebody more educated than myself—"above your station" was how he said it, even though that phrase usually referred to one's economic standing. He claimed to not care about what a anybody did for a living, but he did care. He told me that if I was going to be a garbage man I should be the best-educated garbage man that ever lived, but he probably would have disowned me had I chosen that as a vocation. Lawyer, doctor, dentist, golf pro would have been suitable professions for me in his eyes. He never suggested that I come into what was the "family business" and work with him, not that I had the interest or temperament to do so. He probably knew that.
To his way of thinking, I suppose, being a writer was no great accomplishment. Except for newspapers, he didn't read. Apparently, he wasn't much interested in exploring those worlds created by another's imagination.
He died before I became a chef and restaurateur.
I HAD LUNCH ONCE WITH BENNY GOODMAN at the Brown Derby in Hollywood and Dad, for whom the King of Swing was something of an idol, seemed uninterested in the details of that lunch, at least one of which was quite entertaining. Goodman, who was basically devoid of many, if not most, social graces, in his effort to pour ketchup on food not meriting such treatment, unwittingly deposited the bottle cap atop whatever it was that graced his plate. Rather than removing the cap, he merely ate around it. The ketchup-cap incident notwithstanding, Goodman seemed delighted to know about my father's introducing me to his music. The great clarinetist had died by the time my own son bought a Goodman CD as his very first recorded music purchase.
Many years later, I helped produce a benefit concert for the bassist Monk Montgomery in Las Vegas that starred Frank Sinatra. A powerhouse quintet led by drummer Louie Bellson, and Sarah Vaughan and her trio were the opening acts. Dad responded to my achievement with some personal memory of Bobby-soxers in pre-World War II America. Hell, I was impressed that I even knew these people and I guess that I hoped my father would have been.
Perhaps he just didn't know what to say.
While he had certainly enabled my music studies—and rarely missed a concert date, let alone the club dates, dances and parties to which he drove me before I had a driver's license—I'm sure he was relieved when I retired after seventeen years of playing professionally at the age of twenty-five. (For the record, my last official, paid gig was working a high school dance in Rantoul, Illinois, in an acoustic piano-bass-drums trio. We got three requests for "Stairway to Heaven" and one for "In-A-Gadda-Da-Vida." That's show biz.)
Not that he knew any "show people," Dad maybe wouldn't have cared to know them thinking, perhaps, that they lived by different and somewhat inferior moral standards in which he could find no comfort. He did admire their work, however, and seemed genuinely pleased when I introduced him to Sarah Vaughan backstage at the Playboy Jazz Festival at the Hollywood Bowl. (I have a snapshot of the two of them embracing; proof, said the singer-songwriter Benard Ighner, that my old man was terribly drunk that afternoon.)
That same June afternoon I introduced Dad to dozens of jazz stars, including the great jazz singer Joe Williams, who had become a dear friend of mine. Dad and Joe, who were about the same age, seemed to hit it off, talking about the old days in Chicago and, of course, golf. (Despite his 11 handicap, I discovered that Joe was a scratch golfer when we played Spyglass at Pebble Beach one afternoon.) My dad was delighted to host a round of golf with Joe and the bandleader/saxophonist Dave Pell a couple of years later at the exclusive St. Charles Country Club in suburban Chicago. Joe was probably the first black man to play there, at a time when "exclusive" still meant "no blacks." I think my father took some sense of pride is his contribution to breaking the color barrier.
He was no Branch Rickey, but every effort counts.
WHEN MY FATHER OPENED HIS SECOND Ben Franklin store—this one in Batavia, Illinois, in 1963—he and my mother chose to settle our family in the slightly more upscale Geneva, which bordered Batavia on the north. For reasons that were his alone, Dad did not want to live in the town where he was opening his business. After selecting an appropriate and fitting home and negotiating the deal, the real estate agent proudly informed my parents at the closing that the neighborhood they were buying into was so exclusive that it had denied Ernie Banks the purchase of a home there—nothing official or on the record, of course.
"Well," my father said, standing to exit the realtor's office in as much of a huff as he could muster, "if this neighborhood is too good for Ernie Banks, it sure as hell is too good for me."
Mr. Rickey would have been proud.
That's when my parents "bought the farm," as Dad used to say, four miles from Batavia, bordering on the meandering Deerpath Road. It was a modest acreage on which my sister trained her hunter-jumper and where I raised my registered quarter-horse, a descendent of the famous Texas Star Twist, to make tons of money for me as a brood mare. Doc Severinsen, the trumpet-playing leader of the Tonight Show band, once told me that he had to keep working as a bandleader to pay for the quarter-horses he raised and raced.
Horses were not to be my financial salvation.
My multiple business failings over my lifetime have taught me that I should have stuck with redeeming soda bottles, my original attempt at entrepreneurship being the only one that actually paid off.
And our only crop on "the farm" was whatever it was that grew on the two acres of fenced pastureland that the horses ate, although my father did have me cultivate and meticulously maintain enough lawn to carpet a par-five golf hole.
MY FATHER WAS BORN IN 1919 in Chicago, the second of three children and the first male. He grew up in Cicero during the Capone era. By the time of the Wall Street crash in 1929, his father had established his own steel business on the city's South Side, fabricating staircases, sidewalk grates, foot bridges and wrought-iron railings—as well as those counter-balanced fire escapes he may or may not have invented. His mother, who had worked as a seamstress in Chicago's sweatshops as a young immigrant girl, took in laundry, alterations and sewing, and was raising her family. They lived frugally, to say the least. They owned their own home, a modest, two-story brick bungalow in Cicero, but lived in the basement because they could get more rent for the two upstairs flats. They usually had a boarder sharing their subterranean space with them.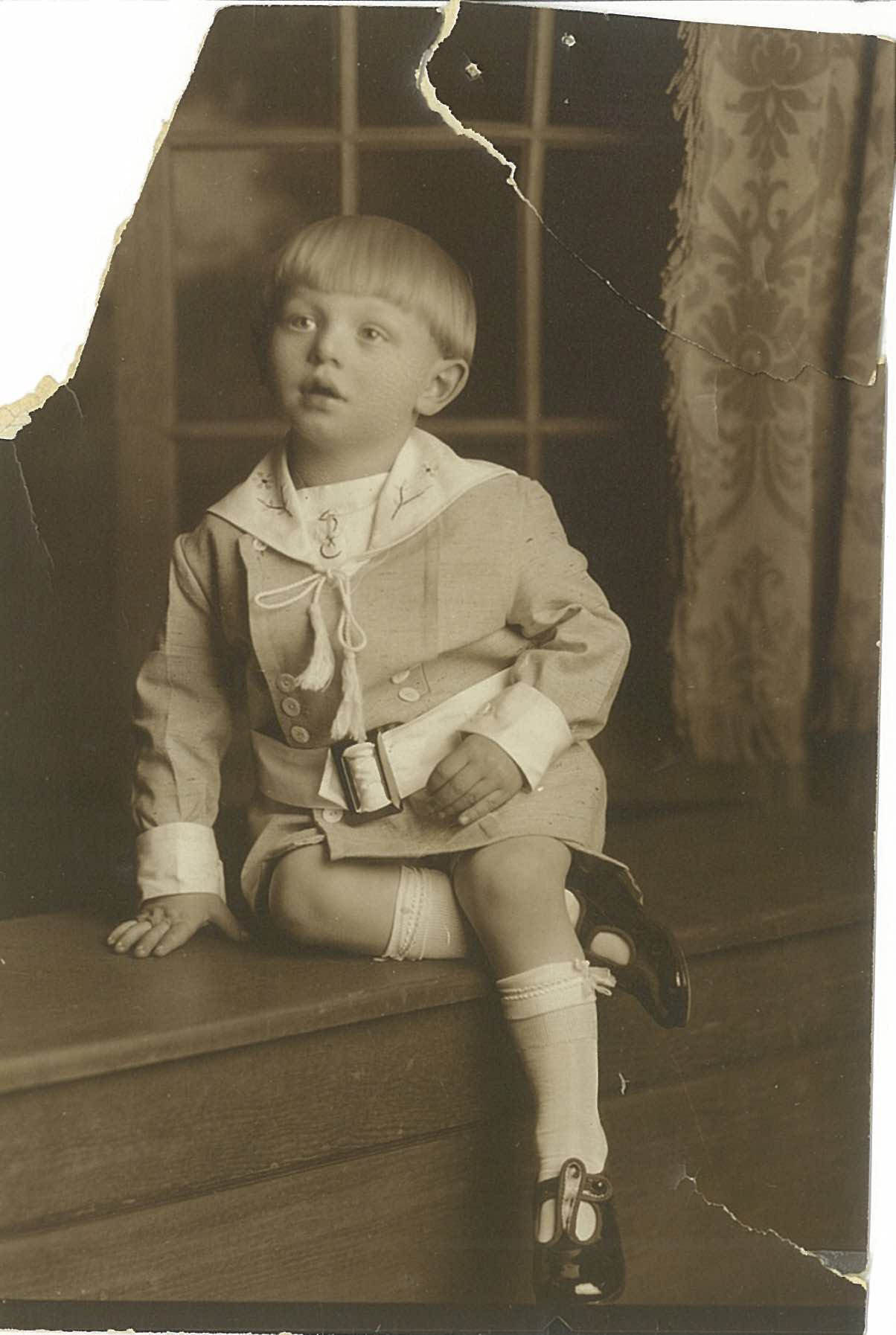 In 1931, my grandfather had his back broken by a steel beam that had broken loose from its cables and fallen from a shop crane. While Grandpa was in the hospital, babi closed her husband's steel business, sold their home and bought a small corner grocery with an upstairs apartment. She turned a storage room in the back of the store into a space for her immobilized husband to recuperate and she set up her sewing machine next to his bed. She made soups and sandwiches for workers fortunate enough to have work in the area's small factories, sold canned goods and bags of flour to the neighborhood's housewives, distributed government-issued goods to people on assistance, and held her family together the best she could.
Aunt Violet, Dad's older sister by a year or so, continued her studies, helping in the store before and after school. Uncle Eddie was too young to do much of anything to help out. Babi made my father quit school and found him a job. He was twelve years old and the job she found him was driving a truck to deliver vegetables and ice. He already had a paper route and, along with two friends, added the management of a couple of newsstands on Cermack Road to his resume.
Dad collected for his newspaper delivery route on Sunday mornings. One of his customers was Ralph Capone, Al's younger brother who was nicknamed "Bottles" and who fronted the "legitimate" side of the family business—a bottling company that produced soft drinks. One of Ralph's kids was about my father's age, but they didn't know each other. How could they have? Ralph's kids probably went to private schools, maybe in a different state; Dad didn't go to any school.
Anyway, my father never met Ralph Capone, who was his customer for almost five years, despite his being in prison for at least couple of those years. Maybe Mrs. Capone read the newspapers. On Sundays, my father would trudge up the wooden back stairs of Capone's brick building to collect his seven cents (that's what the Chicago Tribune, delivered, cost in those Depression Era times) and there would be a plate on the top step with a steaming hot cup of coffee, a frosted Danish and some coins. Dad would eat the cake, drink the coffee and drop the nickel and two pennies into a canvas envelope. Under the plate he would find a crisp five-dollar bill.
That, he put in his pants pocket to keep until he got home and gave it to his mother.
I was raised with a deep respect and an abiding appreciation for organized crime.
"They only fought among themselves," Dad would offer in a deluded defense of his family's Depression Era meal ticket. "They only killed each other."
He would then wax poetic about the mob funerals, of which there were many. "We kids would line the sidewalks of the funeral homes and the mobsters would flip quarters and half-dollars to us. We'd scramble for the money, maybe get enough to go to the movies and even get some popcorn."
My father's life as an accessory to high crimes and misdemeanors came to an end in 1936 when he fudged his age and joined the Army.
Uneducated and not well-read, but certainly not dumb, and from a working-class family that had endured each and every hardship the Depression could deliver, my father became an officer and a gentleman.
Today, a sixth-grade education would not gain one access to Officer's Candidate School. But my father, after receiving his basic training at Fort Dix in New Jersey and with a war looming on two fronts, found himself among the ranks at Fort Benning, Georgia, where he received his commission. In those pre-War times, he traveled the country and received his specialty training in desert warfare at Camp Swift, Texas. He was stationed for a while in Yuma, Arizona, where he invested heavily (a few dollars, in reality; maybe a month's pay) in some desert property along the Colorado River that he later sold to the McCulloch Corporation at about the time he opened his second Ben Franklin store.
A couple of years after he sold his Arizona interests to McCulloch, Dad and I took the Santa Fe's Kansas City Chief from Chicago to Kingman, Arizona, to visit Lake Havasu, a tiny part of which was being built on land my father had once owned. The Santa Fe did not compare favorably to the Burlington's Denver Zephyr. For reasons I cannot begin to fathom, we rode the distance in coach. I read two books on that trip. Heading west it was Alan King's Help, I'm a Prisoner in a Chinese Fortune Cookie Factory, which I found to be laugh-out-loud amusing (I was 12 and should have been preparing for my bar mitzvah that never happened) and on the return trip I read the inspiring Yes, I Can by Sammy Davis, Jr.
My father, addressing the subject of this one-eyed, married-to-a-white-woman man's conversion to Judaism, said "Doesn't he have enough problems?"
I learned on that trip Dad drank just a tad more than anybody knew.
We spent most of the trip sitting close to the bar in the Lounge Car on chairs that were not nearly as comfortable as our coach accommodations. At some point, in the middle of the day, actually, we crossed into Kansas and the bar part of the Lounge Car suddenly closed, a metal curtain pulled down like those of the shopkeepers in Chicago's less-than-desirable neighborhoods. Kansas, we learned, was a dry state. That knowledge did not please Dad. His mood would not lighten until we crossed into Colorado.
FOR REASONS THAT ARE NOT CLEAR, Dad's Army career led him to Colorado Springs, where he met my mother, a co-ed from Denver University.
She was just graduating from college and had been working part-time for a Denver-based insurance company as a trouble-shooter, a career she would continue after graduation and throughout the War until her marriage to my father. As a graduation present, her boss flew her and a friend, Ruth, from Denver to Colorado Springs—it was their first airplane ride—for a weekend at the Broadmoor Hotel, where her boss's friend was manager. Charged with ensuring that the girls have a good time, the resort manager introduced them to my father and his best friend, Ed, who were living at the posh resort courtesy of the U.S. Army.
They all fell in love—Art with Peggy, Ed with Ruth—and the men soon thereafter shipped out to Europe—London specifically, where Dad's and Ed's desert warfare training was found somehow useful in the planning for the Normandy invasion.
"That's how the Army works," he'd say to me as I was growing up.
It was not an inspirational message.
Sand, to the best of Dad's knowledge, was the apparent connection between the beaches of Normandy and the desert training he had received. He had thought that his service would be in North Africa. Anyway, he worked alongside General Dwight David Eisenhower and hundreds of others in London planning for the D-Day invasion. Taking into account the weather and the limited possibility of effective air cover and not knowing for sure what might be awaiting them, Dad did not think that an early-June invasion on the French side of the English Channel was a good idea. (Dad was not alone in his assessment, by the way.) Ike disagreed with Captain Liska and others of his ilk, including Ed, also a Captain, who died on Omaha Beach that June day.
"His head rolled right past my feet," Dad once told me.
AS BAD AS I FELT FOR THE VICTIMS and their families of the Oklahoma City bombings of the Murrah Federal Building on April 19, 1995, I pitied my father more. After all, I knew him.
His body was withering as the cancer took over his very being, cascading through his body in a metastasizing frenzy. The television in his room at Delnor Hospital in St. Charles, Illinois, was looping the day's destruction in Oklahoma and Dad was sobbing, at times almost uncontrollably over the deaths of the innocent children at the day-care center at the facility.
He was also talking about what was wrong with his golf swing and how he knew how to fix it when he could get back to the course come spring, which it already was. He pulled his hands from under the hospital bed covers and held them slightly aloft, the bony hands at the ends of his withered wrists arcing around an imagined grip.
And he was cursing Ike.
"The Germans were already there, you know. We found that out. But they couldn't have defended an air strike. We were sitting ducks in a shooting gallery."
He was crying for his best friend Ed and the men he commanded from his landing craft who had died fifty years before. "Eighty-five of them," I heard him say in a very tired whisper.
And he was crying for the children.