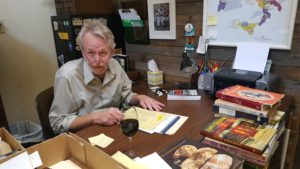 As I was saying…
My name is Jim Liska and I live in Southwest Montana with my wife Geri in a two-story Victorian-style house that was built in 1900. It sags a bit.
I'm a classically trained percussionist (Interlochen Arts Academy, Northwestern University, Eastman School) who played drums in small jazz groups from the age of eight. I retired from playing when I was twenty-five (the same day I took my last college final), thinking that I could better contribute to the jazz world by writing about it than playing in it. I earned a degree in journalism from the University of Illinois and moved to Los Angeles where I worked for the L.A. Daily News, the L.A. Times, DownBeat magazine (I was West Coast Editor) and Playboy.
Cooking has always been at the center of my life, learning at my Bohemian Grandmother's side in Chicago and being introduced to my favorite cuisine, Italian, from the Sicilian Interlandi clan, all of whom cooked with great flair and at high volume.
I made the leap from cooking for family and friends in 2003 when my wife and I bought a 30-seat pizza joint that I turned into an Italian restaurant. This is not an activity I would recommend to any 52-year-old. Except for the tons of business crap, it was a fun and satisfying twelve years.
And so now that I'm an old man it's time to sit in my rocker on the front porch and tell stories to anyone who will listen. But I don't own a rocking chair and there's no room for one on the front porch anyway. So I'll be thoroughly modern and tell my stories about music and Hollywood and show people and my family from my computer in what is called a "blog." There will be some talk about politics and religion, baseball, travel, restaurants, wine and food. There will be recipes.
I hope you enjoy my trips down my memory lane.
 As I was saying…