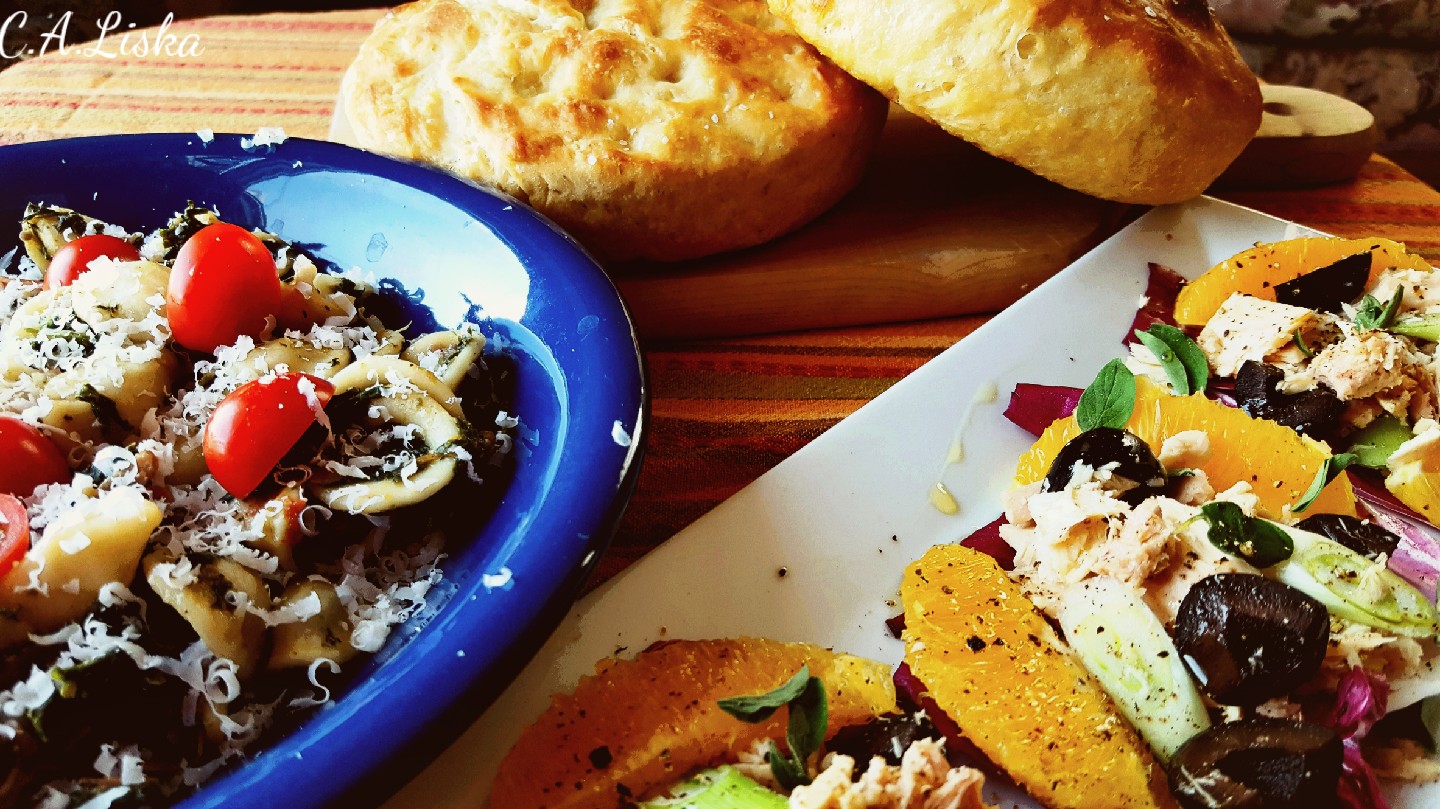 Spinaci Quatratini
The name is nonsensical (although it might have some specific meaning in a Sicilian dialect), but this simple dish is one of the greatest pasta dishes I've ever eaten. I had forgotten all about it.
For two generous servings, slowly saute 3 oz. of prosciutto, thinly sliced and then minced, in butter. Add one finely chopped medium onion, a clove of garlic, a cup of diced tomatoes, and "small amounts" of fresh basil, oregano and black pepper. Cook at a medium-low temperature for 15 minutes or so and add a teaspoon of chicken base (I like the Better Than Bouillon brand) and a cup of water. Add one 10-oz. package of frozen chopped spinach and cook until the spinach is thawed and the sauce is hot.
In the meantime, cook 1/2 pound of dried orecchiette or farfalle pasta (I prefer Di Martino), following the package instructions. Drain and mix the pasta and sauce. Serve with grated Pecorino Romano cheese.
An old-world style Montepulciano would be an excellent wine pairing.
Sicilian Tonno Insalata
This salad, along with some warm focaccia and a glass or two of a good Lambrusco emilia or a lively prosecco from the Veneto, makes a perfect summertime lunch.
Drain two small cans of solid white tuna and mix with 3-4 green onions (sliced thinly on the diagonal), an orange separated into sections, Italian Cerignola black olives, lots of black pepper, a couple of pinches of dried oregano and lots of extra-virgin olive oil. Serve on a bed of bitter greens.
Foccacia
This is my own recipe for the bread I served at each of my restaurants.
1 Tbs. active dry yeast
1 Tbs. sugar
2-1/2 cups warm water
1/4 cup extra-virgin olive oil
2 tsp. granulated garlic
1 Tbs. kosher salt
8-1/2 cups (2#, 4 oz.) flour
Mix yeast, sugar and water; let stand for 10 minutes. Add oil.
Mix flour, garlic and salt, then add to the yeast mixture.
Mix until dough forms. Knead on a floured board 5-8 minutes.
Place dough in a greased bowl; cover and let rise for 1 hour.
Spread dough onto a well-oiled sheet pan or,
divide by four and place in 4, 8″ deep-dish pizza pans.
Dimple surface(s), brush on oil and sprinkle with salt.
Let rise, covered, 30-45 minutes.
Bake at 475º for 14-15 minutes. Serve warm.
Photography by Courtney A. Liska